Roof & Gutter Repair Services
Are you giving your gutters the attention they deserve? Coming in to the start of winter with falling leaves and the winter ahead, its time to clean our gutters every time before spring and they will possibly outlive your house. Leaves often fall into the gutters often find their way into the down pipes clogging them. Just like other physical debris, leaves too can cause damage to your roof. Its a good time to get your roof and gutters looked at it and checked.
Saving Money on Your Roofing & Guttering Repairs
If your not sure as what repairs in your roof and gutters are required, get a report and evaluation done on your roof so you know exactly what is and is not required to minimise your costs.  This is also a great way to prevent further costs down the line with your roofing, catch the damage early before it gets worse and save money.
When damages exist you should, therefore, repair it as soon as they're damaged. Pro tip: Look at the local weather forecast and plan roof and gutter repairs as appropriate.
Gutter Repairs Dublin
Though not mandatory, cleaning gutters are easiest when you have a hose attachment. I mean, who wouldn't want to make the most out of the water's pressure? Chances are, you'll need a ladder while performing this job (unless you're exceptionally tall).  Start by removing the larger twigs and leaves. You could use a trowel and dump them into a waste bucket.
For roofs its best to let professionals to evaluate it before you start getting out the ladder.  Most roofing companies will look at it and assess it and let you know what you need to get done.
Roofing Problems
Depending on what kind of roof you have will very much decide on the type of work to be done, for tile and slate roofs, its often damage or misplaced tiles and slates that get blown off my wind and storms.  For flat roofs, its often a leak in the surface that starts getting worse and needs to be repaired.  Whatever the problem and whatever the roof, we can help you get it done. Calls us 
Gutter Repairs & Cleaning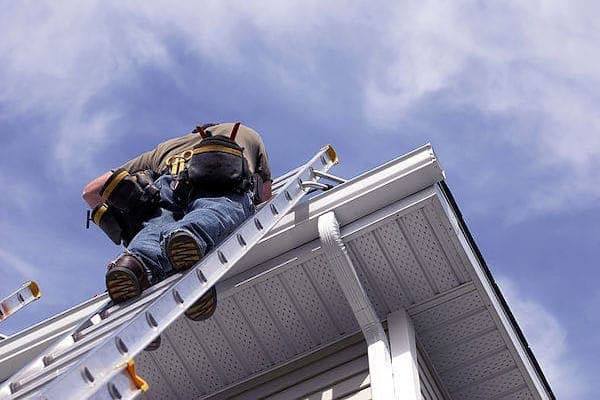 It is particularly important that you choose a reliable gutter cleaning service because rainstorms are common and are highly likely to cause damage and flooding if you do not maintain your gutters in good condition. By finding a specialist that will be able to do this work for you, you can avoid the danger and annoyance of climbing a ladder to clean your own gutter. These specialists will also combine gutter cleaning and repair.
Improving Your Gutters – If you have some issues with your gutters overflowing or getting clogged, you probably do not need to replace them. There are a lot of things that you can do to boost the performance of your gutter system.
First of all, check for any clogs in your gutters. The biggest culprit for gutter clogs is leaves. You should take a look at the trees near your house. Make certain that there are not any branches that are getting near your gutters. This will cause leaves to drop in your gutters, but also the branch could knock up against your gutter and knock it off. You should trim back any branches that get near your roof. This will only cause you problems during a storm.
If you have already trimmed back your branches as much as is prudent and you still get leaf problems, consider putting in gutter guards. The cheapest way to go is to use a gutter screen. You can install these on the tops of your gutters by just following the instructions. This is a great and inexpensive way to keep objects such as leaves out of your gutters.